Experience the Best of the British. Choose your luxury. 
Our Dealership
Aston Martin San Diego has been in business since 2011 and is an authorized and official Aston Martin 
dealership dedicated to offering an unrivaled quality of service and expertise. We are committed to supporting all your Aston Martin needs and pride ourselves on providing an outstanding and personalized service whether you have a sales, after sales or ownership requirement.
Our Service Management Team has over 25 years of experience in repairing, fixing and maintaining Aston Martin vehicles with your comfort in mind.
Our Sales Team has over 20 years of Aston Martin experience and have been trained at the Aston Martin factory in the United Kingdom.
Amenities
Comfortable waiting room with large screen television
Complimentary coffee bar with large selection of roasts
Complimentary drinks and snacks
Complimentary Wi-Fi, with dedicated workstations
Children's play area
Value
Not only do we offer very competitive pricing to our customers, our factory trained and highly certified sales, parts, and service professionals are first class and create a customer experience that is unrivaled.  Stop by today and experience the San Diego Aston Martin.
Our Showroom
Our showroom reflects the prestige and exclusivity associated with the Aston Martin brand, ensuring your ownership experience begins as soon as you enter the showroom. Staffed by passionate, highly trained sales people and technicians, we are on-hand to deliver the expertise, service and peace of mind that you deserve.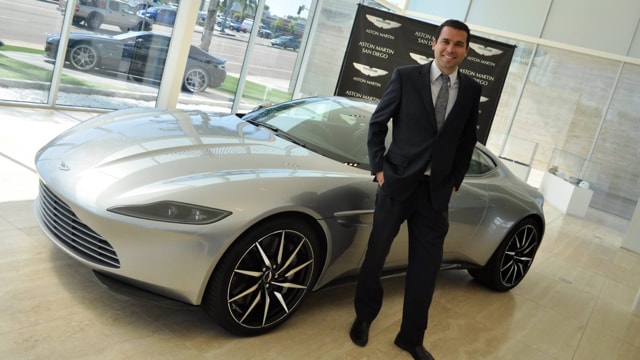 Aston Martin Brand:
Performance
Aston Martin has once again celebrated success in the latest readers' vote for the "Best Cars 2016" held by renowned German automotive magazine auto motor and sport.
Selection
You will find one of the largest selections of Aston Martin colors, models, and options at our Dealership. The current range of award-winning sports and performance GT cars gives Aston Martin its strongest line up in the marque's history. Throughout 2013, Aston Martin's centennial year, the company added the exhilarating V12 Vantage S, elegant Rapide S and the ultimate convertible Aston Martin; Vanquish Volante. These cars have joined an established range comprising Vanquish Coupe, DB9, DB11 and V8 Vantage. Information for all models is available through the 'models' area of this media site.
Boasting a top speed of 205 mph, V12 Vantage S becomes the fastest production Aston Martin in the firm's 101-year history, with the exception of the ultra-exclusive One-77. In contrast, Rapide S combines Aston Martin's characteristic performance with the practicality of four seats, cloaked in one of the most graceful bodies.
Our History
An independent spirit and a rich and prestigious history defines Aston Martin as truly unique in the automotive world. Founded in 1913, the company has developed into an iconic brand synonymous with hand-crafted luxury, peerless beauty, incredible performance and international motorsport glory.  
Representative showroom images
Our Services
From expert guidance through the specification and ordering process to the unique peace of mind that comes from having your cherished car meticulously maintained by skilled specialists, we provide an unmatched service for current and prospective Aston Martin owners.