Since 1965 the Volante has been in the lineup for Aston Martin. The new 2019 Aston Martin DB11 Volante contains a twin turbo V-8 Engine which creates an exceptional burst of speed.
The DB11 Volante doesn't change much from the formula set forth by its solid-roof brethren. Under the hood is a 503-horsepower, 498-pound-foot V8. It has a rear mid-mounted eight speed automatic gearbox with electric shift-by-wire control system. Alloy torque tube with carbon fibre propeller shaft and limited-slip differential so you can drive with incredible control.
| | |
| --- | --- |
| 3.9 s    | 321 km/h |
STEERING
Electric Power Assisted Steering rack with 13:1 steering ratio which allows for an incredibly fast-reacting steering ability. The 3-stage powertrain and chassis modes helps with agility and depth for vehicle control. You are able to configure the car's response and tailor its behavior in a way that best suits the road, weather conditions and feeling.
DESIGN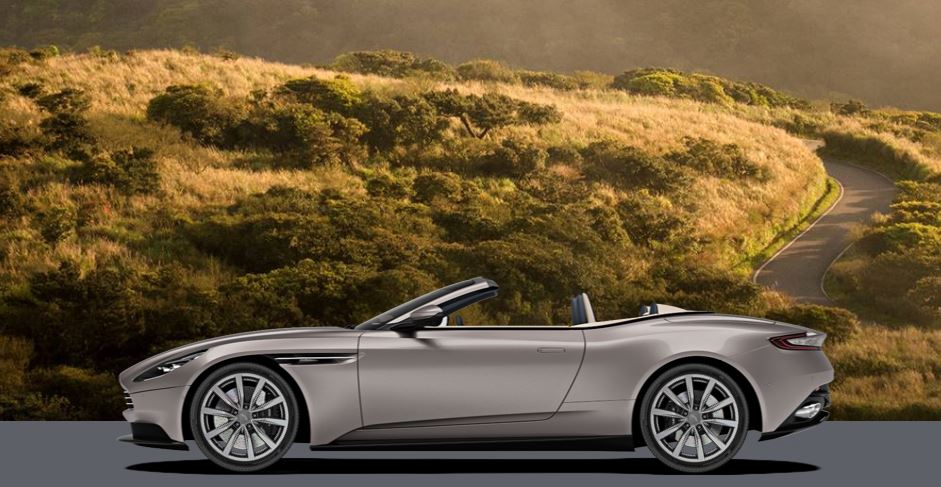 Muscular lines of the DB11's lower body are well suited for for top down than the DB9 Volante was. Power operated fabric roof uses eight layers of material to quell noise with durability testing which is available in red, black or gray.  This vehicle designed to simulate conditions in the world's harshest environments.

2019 Aston Martin DB11 Volante luggage space is 20 percent larger than that of the open topped DB9.  Vehicle is 57 lbs lighter and 5 percent stiffer than that of DB9 Volante.
Max Szwaj, Aston Martin Chief Technical Officer, adds: "The challenge of creating a convertible car is retaining structural and dynamic integrity. To protect the former you need strength and rigidity, but to preserve the latter you need to keep weight to a minimum. With the DB11 Volante we have maximized the advantages of the DB11's all-new bonded structure to underpin our new Volante with a structure that's 26kg lighter and 5 per cent stiffer than its predecessor. The result is a truly magnificent car. One that combines greater performance and agility with increased comfort, refinement and interior space for occupants and their luggage".
Two door body style with deck-lid and 2 GT seats creates an extremely versatile and smooth body meant for speed and comfort.
The extruded bonded aluminium body structure including Hot Form Quenched (HFQ) aluminum makes this unique. 
From the LED light blade tail-lamps and deployable spoilers to improve downforce, you have an array of intricate design tweaks from the DB9 to really make this vehicle stand out.